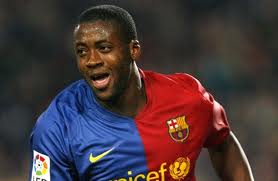 Yaya Toure does not rank Ghana high in the perking order of favourites to win the 2013 Africa Cup of Nations.
The Ivory Coast international was speaking at a press conference after retaining his African Player of the Year award at CAF's annual gala on Thursday in Accra.
The Manchester City ace was reluctant to name the Black Stars as one of the main threats to Cote d'Ivoire's ambitions of winning their second Nations Cup title in South Africa.
Rather, the powerful midfielder's comments, suggests he sees Zambia, Tunisia and Morocco as stronger contenders for the tournament that kicks off early next year in South Africa.
"You have to be honest and say that Zambia last year won it and totally were the best in that competition in that moment," he said. But we have a lot of, you know….I don't mention Ghana but to be honest we have a lot of teams. We have Tunisie, we have Morocco, Ghana, Zambie, Nigeria is coming too and I think it's going to be tough and massive for us. We have to try to do our best because we know the Africa Cup of Nations is not easy to win and we'll try to play again and get to the final and this year will be fine for us."
Toure's comments just like one's made by Ivorian television panelist Mamadou Gaye is likely to pose as an another challenge thrown to the Black Stars ahead of a major tournament.
Ghana has been unsuccessful in their pursuit of the African title for the past 31-years and hope to end the long wait in South Africa.
The Black Stars however have to conquer Group B which includes Mali, Niger and DRC.