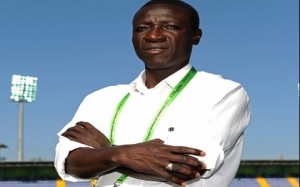 Coach Didi Dramani has lauded his charges for securing a hard fought victory over Wa All Stars in a match that seriously threatened Kotoko's unbeaten run in the eleven weeks old Glo Premier League in Ghana.
A first half penalty goal was enough to put the Porcupine Warriors and her supporters through tough and uncomfortable times in the match, but a turnaround second half performance and three goals under eleven minutes was what the fans needed to burst them into ecstatic celebration after the match.
With his record intact, Didi shared what did the trick for his team with Kotoko Express,
"It was all about self-belief. At recess and back in the dressing room, I did little talking and my players walked onto the field, pumped up for action".
"I only reminded them of the hard training they had been through in preparation for the match and then charged them to go out there and defend Kotoko's unbeaten run in the league. That was all I told them and I am happy that they went out there to do just what was told them".
Though the first half performance was not too impressive to the fans, the team did what was most important for the day by winning, and this did not only bring relief to the fans, but the rapidity with which the goals came brought wild jubilation in the stands.
"As a matter of fact, the second half was more tactical in our play, especially when we decided to mass up in the second and final third and this resulted in the goals that we had".
"We were already down by a goal and so we had nothing to lose again. I therefore decided to play three players back in defence and charged the rest of the players to all surge forward to increase our numbers in our search for goals".
"I also brought on fresh limbs to increase our strength and all these worked together to bring the results we had".
In last Friday's edition of Kotoko Express, Coach Didi spoke about how he looked forward to seeing goals in Sunday's match, and these happened.
"I said those statements because throughout our preparation for last Sunday's match, we had concentrated on goal scoring and since we had worked on it, I expected the goals to flow. In football, when you work hard at training, the results happen," he said.
Many fans in the stands were heart broken when the first goal came but Didi says that period was when he opened his eyes and mind wide to watch his team.
"We have an unbeaten run in the league and so the when the goal came, I looked at the situation as the period for the real test of Kotoko's character as a team".
"That was the first time we were having to come up from a goal down and so it urged me to delve deep into my store of knowledge to stand up to the challenge".
"It is at this point that I laud my players for their stupendous performance. They fought back as true title defenders and this is commendable".
"Having seen my team come up from a goal down, I wonder how we can be defeated in the league. It will take extraordinary performance from our opponents to attempt at defeating us," Didi opined.
To the fans, he assured that the team was going to continue to work hard to record more successes for them. "But we can continue to achieve such successes when they remain true to the team by giving us their unflinching support".