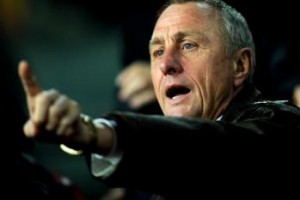 Former Dutch great Johan Cruyff has praised the efforts of the Super Eagles who held his Catalonia side to a 1-1 draw in Wednesday's friendly international match in Spain as Nigeria prepare for the Africa Cup of Nations.
Sergio Gonzalez scored for the hosts via a penalty before Bright Dike equalized for the Nigerians who were later handed the Catalonia Independence trophy.
Cryuff, who was handling the Catalonian Selected side for the last time, said he told his players that the Nigerian side was a very strong, physical and tactical side and he was not disappointed with what he saw against his side.
"It was a good game but the Nigerians are preparing for a major tournament and it showed that they are preparing well and will go very far in the tournament", Cruyff said.
Nigeria is drawn in Group C and will face defending champions Zambia, Ethiopia and Burkina Faso.