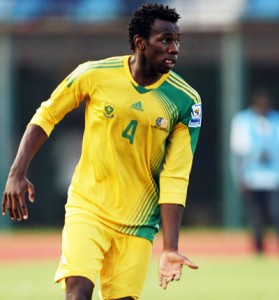 Bafana Bafana skipper Bongani Khumalo says he has a difficult task on his hands as he tries to emulate 1996 Africa Cup of Nations (Afcon) winning captain Neil Tovey.
Alongside former president Nelson Mandela, a triumphant Tovey lifted the Afcon trophy, after Bafana Bafana had beaten Tunisia 2-0 in the final at Ellis Park.
With the Africa Cup of Nations again taking place in South Africa, expectations are high, despite the team's slide down the world and African rankings in recent years.
Khumalo, a former Tuks and SuperSport United player, was still a school-boy when Mark Williams' two goals against Tunisia saw the country celebrate their maiden Afcon title.
"I believe I was alive," Khumalo joked.
"Probably still playing in the backyard; I think I was playing at school at first break, at second break, I remember it as a special time."
Khumalo added that history needs to be put in the past, and new memories are expected to be forged when the tournament kicks off on January 19.
"I'm part of a new generation of players, although there are a lot of players with experience from the world cup," Khumalo said.
"There's a good spirit, we have all been through a lot together.
"The cup-winning side of 1996] have been mentioned over and over again and it was a great moment for South African football.
"But now as hosts for 2013 it's important that we create new memories. It was great part of our history, but as players we need to create our own memories. We have a squad of players we believe in."
Bafana Bafana are currently in Cape Town, ahead of Tuesday's friendly international against Norway.
Khumalo said the players in coach Gordon Igesund's 23-man squad were all upping their efforts to try and stake a claim in the starting XI, when South Africa kick off their Afcon campaign against Cape Verde in Johannesburg.
"Competition is a healthy thing. As the coach mentioned, the numbers have gone down, from 33 to 23, and now it's about making the 11," Khumalo said.
"After the first session the guys are looking good and working hard."