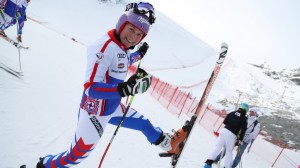 Winner in 2010, Tessa Worley wins third place in the giant slalom in Semmering (Austria) behind the Queen of specialty Tina Maze this season and incredible Anna Fenninger.
Semmering winner here last year, she won a good second place after the first round behind Anna Feninger and before the dreaded Tina Maze.
In very difficult conditions, she could not retain its 42 hundredths ahead of Tina in the second round and finished 3rd. Realizing the best times in 2 rounds, Austrian Anna Feninger was untouchable today.
As for Tina Maze, she signed her sixth podium of 6 Giants since the beginning of the season, including 4 victories. She cannot be reached for the Crystal Globe in the discipline.