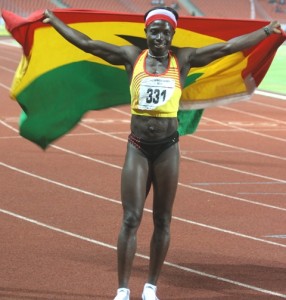 Ghana athlete Margaret Simpson is growing impatient over her unpaid bonuses after winning Gold last year at the All Africa Games in Maputo, Mozambique.
The Mauritius- based athlete and other medalist from the 2010 Africa multi sport event were promised undisclosed sums of monies by President John Mahama who was then the vice president of Ghana.
The Hepthatlete queen claims she is owed ten thousand dollars from previous athletics competitions. Margaret, who has won gold in the last three editions of the All Africa Games, is unhappy with the situation and wants the Ghana Athletics Association to pay her all outstanding bonuses.
"The problem is that, last year when we went to the all Africa games, the monies given to us were only for winning the gold medals". Said Simpson
"The Vice President at the time, John Mahama promised us he was going add some since the money was too small but since then we have not heard anything but I was told that President Mahama had given the money but was locked somewhere".
"Ghana athletics association owes me about ten thousand dollars and it is not only me because some of my colleagues have been complaining as well. We need our money from the association".
Meanwhile the Ghana Athletics Association has admitted to Margaret Simpson's claims but explains they cannot be blamed for the long delay.
"It is true that the bonuses for the athletes have not been paid yet and we are still in the process of finalizing approval from the ministry to the government so that the funds will be released to settle them but as to when the money will come I can't tell".
Read also http://en.africatopsports.com/2012/12/19/africa-top-sports-awards-daniel-teklehaimanots-fan-club-highly-mobilized/