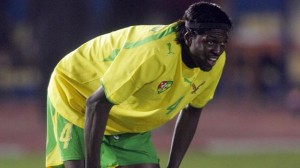 The first game of the day which opposes the elephants of Cote d'ivoire against the Hawks of Togo.
In the first minutes of the meeting, Ivorians are struggling to emerge the ball. The excitement Ivorian is symbolized by a silly mistake Konan in midfield.
After 2 minutes of play, the Togolese Adebayor snatched the ball defense and has still asleep in front of goal but the goalkeeper sets it right in front of him to six meters.
Adebayor lost his duel with Copa. Therefore men are enterprising but Didier Six rush. The Hawks abusing some long balls before that show low precision.
A game that started in the spirit of fair play, It is down Yaya Toure who hits hard and sees his shot deflected cross the goal line! 1-0 to the Ivory Coast has the 7th minute. This goal does not prevent the Hawks keep enterprising and willing to face some Ivorians liabilities.
Hawks efforts will be rewarded. A corner hit by Mama Garfar, Jonathan Ayité puts the record straight.
1-1 so. Equalization logic Togo to the last second of the first half. Togolese would have hoped for better as they dominated the Ivorians.