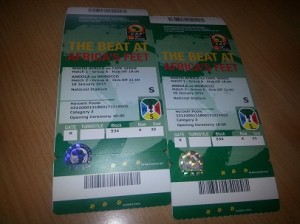 Tickets for the African Nations Cup match between Bafana Bafana and Morocco on Sunday are sold out, the South Africa Football Association (Safa) said on Friday.
Safa president Kirsten Nematandani, speaking in Johannesburg, urged those with tickets to the match to turn out in their numbers in Durban.
"Those with tickets, please don't stay at home, we want to see the stadium full," he said.
Bafana Bafana must draw or win against Morocco in their final Group A match at Moses Mabhida Stadium to ensure progress to the playoffs of the continental competition.
If the hosts lose against Morocco, they need Angola to beat Cape Verde in a simultaneous game in Port Elizabeth to reach the next round.
Perennially late Sport and Recreation Minister Fikile Mbalula, who arrived 50 minutes after Friday's media conference was scheduled to start, praised the efforts of Bafana after the national team beat Angola 2-0 on Wednesday to move top of their group.
"We stand here as a proud and confident nation imbued by the resounding thrashing, walloping and gregarious defeat of the Angolan national football team by the astonishing warriors Bafana Bafana," Mbalula said.
He believed Bafana had been "unfortunate" in the games leading up to the Angola match, with the South Africans struggling to find the back of the net.
"Like combat-ready warriors, the team turned the misfortune of being denied goals in the warm-up matches and first game against Cape Verde into a promising festival of goals during our last game against Angola."
Mbalula slammed the local media and the public for their criticism of the national side.
"Our team has once and for all unequivocally demonstrated that there is neither room nor place for prophets of doom and unpatriotic Johnny-come-lately in our national fibre, constitution and makeup."
Sapa