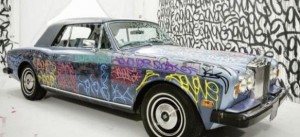 My buddy Eric Cantona – I loved it when he made the heyday of Olympic de Marseille and Manchester United, is selling his Rolls-Royce.
I read it in Le Parisien this morning.
It has the distinction of having been tagged by an artist. Good, you must love. Personally, I'm past this design, but …
It will be auctioned. The starting price is € 20 000!
Eric is a great generous guy. He has generously offered his 1984 Corniche model to  the Abbé Pierre Foundation last November.
For the fans …
Basile Boli. 20/01/2013