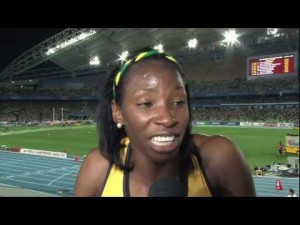 Jamaican hurdler Melaine Walker has asked for forgiveness from the public, expressing regret at the uninspired 55.74 run, five months ago, "I am very sorry." Melaine Walker still was suffering from her performance in the 400m hurdles semi-final at the London Olympic Games.
Also confirmed that she will be looking to compete at this year's IAAF World Championships in Athletics, but hinted that her retirement may follow soon afterwards,Walker, who failed in her bid to successfully defend the title she won at the 2008 Beijing Olympic Games, citing problems with team officials in London as one of several factors that contributed to her lackluster performance at the Games.
"Yes, I definitely regret it (Olympic performance) because you have people out there who love you and you have your family members, fans and sponsors, and to them I want to say I am very sorry and it wasn't an intentional matter," said Walker during an interview with The Gleaner.
"It was just a situation where there was a lot of stuff that I could not manage. There were many things I managed over the years to put aside when it's time to compete, but this time I just didn't know how to deal with it," she added.
"I have thought about quitting, but I don't believe in quitting, plus I am not ready to be done," Walker added. "My love for track and field is too great to stop while I still have so much potential."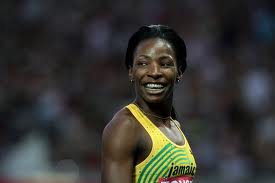 Walker, who was 30 years, last month, noted that intend of her to seek qualification to the World Championships in Moscow, where she will be hunting her third medal at the championships, after mining gold at the 2009 Berlin and silver in 2011 Daegu editions.
"It's OK to say, well you didn't perform well, because the athletes themselves know that, but to say other stuff – personal stuff, is very discouraging to some athletes," she added. "It's good to have some positive things to say, it's OK to criticize but try and lift up the athlete at the same time."
"But they (fans) do love us all, sometimes I think they just don't know how to express their disappointment in a good way," Walker said.
Athletics/Kenya: Doping test failed by Athletes
A new storm is brewing within the Kenyan athletics fraternity after an athlete, who finished in a respectable position at the Standard Chartered Nairobi International Marathon last October, failed a dope test.
Athletics Kenya (AK) won't reveal the name, which we are keeping confidential for legal reasons in which the athlete has been informed.
"Yes, we have an athlete who failed a dope test at the Nairobi International Marathon, but we are following procedures first throughout due process," said an AK official, who did not want to be named.
"The athlete must bring the defence first to argue the case. The athlete may request B sample to be tested or just admit culpability and serve the sanctions. We are waiting," said the official. He said the sample was tested in South Africa.
"We shall go back on public once we confirm the allegation," he said.
John Fahey President of World Anti-Doping Agency visited Kenya last year and held talks with top ranking Government officials, including Sports Minister Ababu Namwamba.
The anti-doping czar said Kenya is an important nation because of its many world-class athletes.
A former long distance runner, Mathew Kisorio is among the athletes who gave interviews confessing doping. He failed dope test during last year's National Championships. Some athletes told the German television where they bought banned performance-enhancing substances. But AK denied knowledge of doping in Kenya and urged the Government to conduct investigations.
Around the same time that Fahey was in the country, delegates from the IAAF Medical and Anti-Doping Department also visited Kenya where they participated in anti-doping meetings, workshops and seminars aimed at increasing anti-doping know
Read also:
http://en.africatopsports.com/2013/02/01/athletics-ivorian-murielle-ahoure-sets-a-new-record-for-africa/