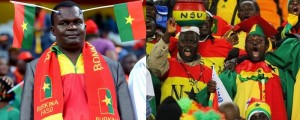 The second semi-final of Afcon opposes the Stallions of Burkina Faso to the Black Stars of Ghana from 18h 30 at Nelspruit.
Fifteen years after its semi-final played at home, Burkina Faso is once again in contention for a place in the final of the African Cup of Nations. Surprisings guests of the last square of the Afcon 2013, The Stallions will face the Black Stars accustomed to semis.
Arrived in South Africa to end the curse of the first round, Burkina Faso beat the odds to not only access to the quarterfinals but with the cap leading Group C ahead of Nigeria (other semifinalist) and Zambia (African champion), eliminated in the group stage. The first semifinal outside its borders devotes a generation which has been"mature" and whose individual talent is recognized across Africa.
It is also the result of "a big solidarity," as pointed the midfielder Charles Kabore (after the victory against the Hawks of Togo in the quarterfinals). A Solidarity that allowed the players of Paul Put to be at height even in adversity (injury of Alain Traoré). But on Wednesday at Mbombela Stadium in Nelspruit, the Stallions will face the favorite for the championship: Ghana.
Even at this stage of the competition since 2008, the Black Stars have never lost against the Stallions in the final phase of the Afcon. Since 1978, their first confrontation, Ghana has always won (NDRL, Afcon 78: 3-0, Afcon 2002: 2-1 and Afcon 2010: 1-0).
With a well-oiled collective, Ghana is gaining momentum in the 29th African Cup of Nations in the image of its captain, Asamoah Gyan.
"We respect this team (…) they have very good players who play in good leagues," says the middle of Marseilles, Charles Kabore. But the Stallions reassure "But we also have a good team (…) we'll have to give the best of ourselves, go into battle (…) it is necessary that we stop to think of others, but rather to ourselves. We must say that we, too, have a quality team and if we want, we can do something great. '
Used to evolve on the sandy lawn Nelspruit, Burkina could still defeat the odds.