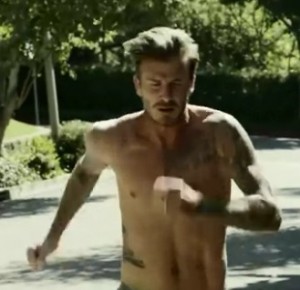 I love David Beckham! This is the only player who signs in a club like PSG that still does not train with him, but in London when he is free of any commitment for several months!
What fans can assure is that he will soon arrive in the capital … – This is the only player who says he will play well – even if it comes from a good feeling, his salary will be donated to an association during this 5-month freelance … –
This is the only player who can afford to make the buzz with a wet slip on the canvas in the world! David Beckham is known for his football, his darling – Victoria Beckham, his tattoos, his muscles and underpants … It is once again the star of the new H & M campaign!
And this time, he is filmed in ultra tight panties by the former husband of Madonna, Guy Ritchie. Beckham dives into the pool, and we love it when he comes out … H & M has pulled it off …
David tell me, when do you redo about you on the field now?
Basile Boli.7.2.2013
[youtube]http://www.youtube.com/watch?feature=player_embedded&v=il21FZu-IUY[/youtube]