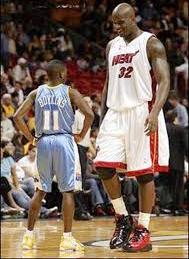 In this game of basketball, looking this giant man in front of this little boy how do you think the game will go on. This reminds us of way back which in the bible of David and Goliath.
The huge and little basketball players face-to-face and face up challenging each other on the Basketball Court, the Goliath seems to have pity on the David but the David seems to be determined at what he is about to do.
What do you think about this image? Have your say.
Read also:
http://en.africatopsports.com/2013/02/17/nigeria-were-giants-of-africa-emenike/