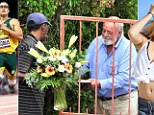 It was thought that Steenkamp moved to the bathroom and was shot through the door, possibly at close range, the channel reported. Pistorius picked up her body and carried her downstairs. He called a family member but not the police, who were alerted instead by neighbours.
Pistorius, who last year became the first double amputee to compete against able-bodied athletes in the Olympics, remains in custody after being charged with murder.
He is due to apply for bail at a court hearing in Pretoria on Tuesday, the same day that Steenkamp is set to be cremated at a private service.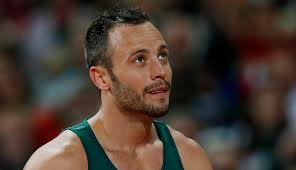 Her father, Barry Steenkamp, told Britain's Mail on Sunday that the family was struggling to come to terms with the death, but added: "There is no hatred in our hearts."
Pistorius's father, Henke, said he had "zero doubt" that Steenkamp's death was a tragic accident. He told the Sunday Telegraph in the UK: "When you are a sportsman, you act even more on instinct. It's instinct – things happen and that's what you do."
A close friend of Oscar Pistorius told how the athlete phoned him moments after Steenkamp was shot. "Oscar called me at 3.55am saying that Reeva had been shot," Justin Divaris told the Sunday People. I said to him: 'What are you talking about? I don't understand you.' He then repeated himself: 'There has been a terrible accident, I shot Reeva.'
"Next thing his neighbour picked up the phone and told me it was true and told me to get to Oscar's home. I was in total shock. I asked the neighbour: 'Is she OK?' Did the gun go off by accident?' She replied: 'No. She's not OK. You need to get here."
Read also:
http://en.africatopsports.com/2013/02/17/ghana-kotoko-team-visited-by-1983-african-cup-winning-squad/