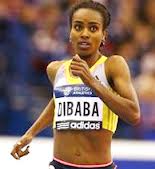 Genzebe Dibaba of Ethiopia, the younger sister of Tirunesh Dibaba, raced to victory in the 1,500m at the British Athletics Grand Prix, an IAAF Indoor Permit Meeting here on Saturday.
Genzebe attempted to light up one of the biggest indoor meets of the year by breaking the world record but came up short by 2.5 seconds after a solo run from halfway.
She remained on target to beat the World mark of 3:58.28 held by Yelena Soboleva of Russia, until she tightened up in the last 100m to clock 4:00.84.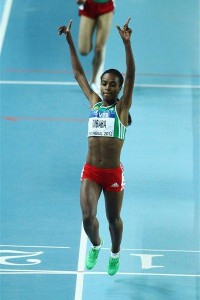 Meanwhile, Mo Farah of the UK won easily his first race of 2013 – the 3,000m in 7:42 minutes.
The two-time Olympic Gold medalist is now concentrating on August's World Athletics Championships, which are being held in Moscow.
He's also announced that he'll run half of this year's London marathon before going the full distance in 2014.
Here the videos :
[youtube]http://www.youtube.com/watch?v=LrxqcAP4yKA[/youtube]
[youtube]http://www.diretube.com/ethiopian-sport/genzebe-dibaba-wins-in-birmingham-video_942684dd3.html[/youtube]
Read also:
http://en.africatopsports.com/2013/02/19/mohamed-mo-farah-biography