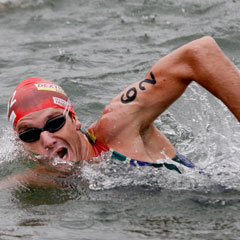 Richard Murray who is Olympic triathlete surprised himself when he won his first Xterra South African Championships in Grabouw on Sunday at Johannesburg.
Murray won the 1.5 kilometre swim; 27km mountain bike and 11km trail run in two hours, 23 minutes and two seconds (2:23.02), with Dan Hugo and Nico Pfitzenmaier joining him on the podium.
"Today is a special day: my first South African title," Murray said.
"I was planning to do my little jump of happiness at the finish line, but the girl was holding the banner really tight and I couldn't."
Murray said it was only in the final metres that he finally believed he would win.
This was Murray's biggest victory on South African soil.
Murray leaves for the United States on Tuesday for the Pan American Sprint Cup.
Read also:
http://en.africatopsports.com/2013/02/22/australia-sedative-used-by-olympic-swimmers/