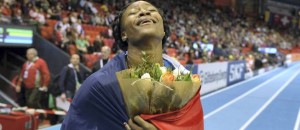 Antoinette Nana Djimou retains her title. The Franco-Cameroonian was crowned European champion in the pentathlon Friday at Gothenburg.
For eight more points on the second place winner, the native of Douala on the roof of Europe totalized  4, 666. Another continental record for the athlete who was already sacred Paris-Bercy in 2011.
The French jubilates but admits that she didn't expect it and preferred to win the European or world title.
 "I'm relieved. I will enjoy this success because I have not worked as such. I came here as an outsider and I won the medal. I took back classes and when I get home, I do not want to train. Even the coach was afraid. I am very happy, I am even happier than in Bercy. But this is not really the title that I want, I want that of summer, it is the most important. All medals are good to win. "
At 27-year-old Nana Djimou confirms her stranglehold on the combined hardships at European level since she is also the reigning European champion in the heptathlon, title won last year in outdoors so  in Helsinki.