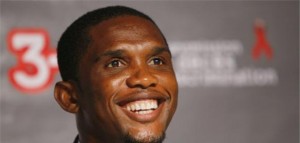 Absent during the last two African Cup of Nations of football, Cameroon is far from serene qualification for the World Cup that day to be held on the weekend of 22, 23 and 24 March.
The Indomitable Lions are precisely going to host Togo in their den.
For this game, Eto'o is skeptical of his victory against Togo.
"I do not see the Cameroon about to face this team in the light of its performance at the Afcon and in the view of the current state of the" Lions ". '
A statement which proves that Cameroon is not ready for a crisis. Worse some executives may get defected during this meeting. And it also evokes local players who had faced Tanzania to play against Togo. The presence of Samuel Eto'o threatened with death after his revelations about the federation, is uncertain. Other elements of the selection will follow in his footsteps.
Although several meetings have been conducted in the framework of this encounter in Togo, the possible departure of Jean Paul Akono is also an ingredient which proves the malaise in the den.
Read also:
http://en.africatopsports.com/2013/02/26/the-favorite-of-basile-boli-samuel-etoo-and-his-crazy-dream-for-african-football/