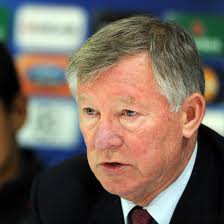 Born to Alexander Beaton Ferguson a plater's helper in the shipbuilding industry, and his wife, the former Elizabeth Hardie, Alex Ferguson was born at his grandmother's home on Shieldhall Road, Govan, on 31 December 1941, but grew up in a tenement at 667 Govan Road (which has since been demolished) where he lived with his parents as well as his younger brother Martin.
He attended Broomloan Road Primary School and later Govan High School and supported Rangers. He went on to manage Aberdeen. In 1986, he was asked to lead the now highly-respected team Manchester United. He was the first British manager to lead a team to the Premier League championship, the FA Cup, and the European Cup. In 2003 he received the Manager of the Decade award. He was knighted in 1999.
European success
Ferguson led Aberdeen to even greater success the following season (1982–83). They had qualified for the European Cup Winners' Cup as a result of winning the Scottish Cup the previous season, and impressively knocked out Bayern Munich , who had beaten Tottenham Hotspur 4–1 in the previous round. According to Willie Miller, this gave them the confidence to believe that they could go on to win the competition,  which they did, with a 2–1 victory over Real Madrid in the final on 11 May 1983. Aberdeen became only the third Scottish team to win a European trophy and Ferguson now felt that "he'd done something worthwhile with his life". Aberdeen had also performed well in the league that season, and retained the Scottish Cup with a 1–0 victory over Rangers, but Ferguson was not happy with his team's play in that match and upset the players by describing theirs as a "disgraceful performance" in a televised interview after the match, a statement he later retracted.
After a sub-standard start to the 1983-84 season, Aberdeen's form improved and the team won the Scottish league and retained the Scottish Cup. Ferguson was appointed an Officer of the Order of the British Empire (OBE) in the 1984 honours list, and was offered the managers' jobs at Rangers, Arsenal and Tottenham Hotspur during the season. Aberdeen retained their league title in the 1984–85 season, but had a disappointing season in 1985–86, finishing fourth in the league, although they did win both domestic cups. Ferguson had been appointed to the club's board of directors early in 1986, but that April he told Dick Donald, their chairman, that he intended to leave that summer.
Ferguson had been part of coaching staff for the Scottish national side during qualifying for the 1986 World Cup, but manager Jock Stein had collapsed and died on 10 September 1985– at the end of the game in which Scotland qualified from their group for a play-off against Australia. Ferguson promptly agreed to take charge of the Scottish national side against the Australians and subsequently at the World Cup. To allow him to fulfil his international duties he appointed Archie Knox as his co-manager at Aberdeen. However, after Scotland failed to progress past the group stages of the World Cup, Ferguson stepped down as national team manager on 15 June 1986.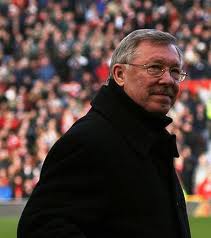 Around this time, Tottenham Hotspur offered Ferguson the chance to take over from Peter Shreeves as manager, but he rejected this offer and the job went to Luton Town's David Pleat instead. There was also an offer for Ferguson to replace Don Howe as Arsenal manager, but he rejected this offer as well, and fellow Scot Georges Graham took the post instead. That summer, there had been speculation that he would take over from Ron Atkinson at Manchester United , who had slumped to fourth in the English top flight after a ten-match winning start had made title glory seem inevitable.
It was not the first time that Ferguson had been linked with a move to England. In February 1982, Wolverhampton had approached him about succeeding John Barnwell as manager as they were heading for relegation from the First Division. He rejected this offer, perhaps concerned about the club's financial stability, as they were more than £2million in debt at the time and narrowly avoided going out of business. At the end of the 1984-85 season, it was reported that Ferguson was being considered for the Liverpool manager's job after the retirement of Joe Fagan was announced, but the job was quickly accepted by Liverpool striker Kenny Dalgish.
At the end of the 1985-86 season, both Arsenal and Totenham Hotspur had approached him about becoming their new manager, but he rejected the offers from both North London clubs.
Ferguson had also been approached for the Rangers job in October 1983, but also rejected this offer.
Although Ferguson remained at Aberdeen over the summer, he did eventually join Manchester United when Atkinson was sacked in November 1986.
Referees
Ferguson has received numerous punishments for abusing and publicly criticising match officials when he has perceived them to be at fault:
20 October 2003 – Two match touchline ban and fined £10,000 after using abusive and/or insulting words towards fourth official Jeff Winter.
14 December 2007 – Two match touchline ban and fined £5,000 after using abusive and/or insulting words towards Mark Clattenburg.
18 November 2008 – Two match touchline ban and fined £10,000 after confronting Mike Dean after a game.
12 November 2009 – Four match touchline ban (two suspended) and fined £20,000 for comments made about the fitness of Alan Wiley.
16 March 2011 – Five match touchline ban (three plus the two suspended for the above offence) and fined £30,000 for comments made questioning the performance and fairness of Martin Atkinson.
It has also been suggested that Ferguson's intimidation of referees results in "Fergie Time": that is, unusually generous being added in matches where Manchester United are behind. The phrase is at least as old as 2004, and a statistical analysis by the Times suggests that this comment might be valid, though the article points out that other footballing criteria may explain the correlation between extra added time and United being behind. Analysis by Opta Sports of Premier League matches played between 2010 and 2012 found on average that 79 seconds more time was played in matches where Manchester United were losing. This was a greater figure than for other top clubs, although most of these clubs seem to benefit from a "Fergie Time" effect, particularly in their home matches.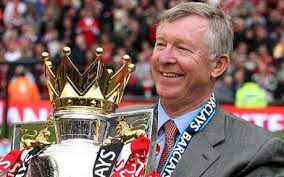 Personal life
Ferguson lives in Wilmslow, Cheshire, with his wife, Cathy Ferguson, Lady Ferguson (née Holding). They married in 1966 and have three sons: Mark (born 1968), and twins Darren (born 1972), current manager of Peterborough United and former manager of Preston North End, and Jason (born 1972), who runs an events management company.
In 1998, Ferguson was named in a list of the biggest private financial donors to the Labour Party. He is also a lifelong Labour voter and in January 2011 Graham Stringer, a Labour MP in Manchester and Manchester United supporter, called for Ferguson to be made a life peer. If this happened, it would make Ferguson the first current or former footballer or football manager to sit in the House of Lords.
Orders and special awards
Read also:
http://en.africatopsports.com/2012/11/30/manchester-united-wants-ogbonna/
http://en.africatopsports.com/2013/01/04/premier-league-rooney-out-again/
Here are videos:
http://www.youtube.com/watch?v=OqLtbCGYYOo