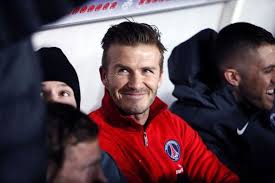 David Beckham is truly a product of Marketing at PSG. His status proves it! Bought a gold mine, the former England international was only once the holder with the capital club.
On behalf of the 28th day of the League, the Spice Boy started on the bench before making his entrance when carrots were almost cooked Nancy (2-1).
"I'm not frustrated to start on the bench. A team is not just eleven players and a game can be unlocked in the final minutes. All players must be prepared and contribute to success. So for me it's the same as I started on the lawn or on the bench. I came to Paris in this state of mind", the Briton assured after the meeting.
Beckham, 37, has already played three games with the Parisians.
Read also:
http://en.africatopsports.com/2013/03/01/beckham-and-zidane-on-the-champs-elysees/