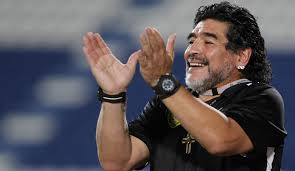 The international Diego Maradona has claimed that the same 'Hand of God' that helped Argentina beat England in the 1986 World Cup has delivered the papacy to the South American country.
The former footballer wrote a letter to Rome's Il Messaggero newspaper where he described himself as a devout Roman Catholic who rejoiced at the election of his compatriot Cardinal Jorge Bergoglio as Pope Francis.
Maradona wrote: "I am truly very happy and I am certain that my enthusiasm is shared by the whole Argentinian people.
"Everybody in Argentina can remember the 'Hand of God' in the England match in the 1986 World Cup. Now, in my country, the 'Hand of God' has brought us an Argentinian pope."
In the 1986 World Cup quarter-final match, Maradona scored two goals to eliminate England one was a brilliant solo run and the other was a handball that the referee mistook for a header.
After the match, the Argentine said he had scored "a little with the head of Maradona, a little with the hand of God".
Read also :
http://en.africatopsports.com/2013/03/14/the-new-pope-is-a-huge-fan-of-football/
http://en.africatopsports.com/2013/03/14/the-new-pope-is-a-soccer-fan/