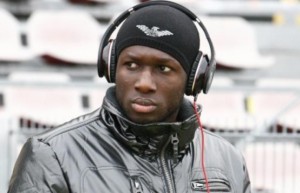 The Beninese international, Mickael Poté will not be present at the Mustapha Tchaker Stadium of Blida to face Algeria on 26 March.
The striker of the Squirrels is forfeit for the match of the third round of the playoffs for the 2014 World Cup.
the Beninese 28 years old is suffering from a knee injury. The striker of Dynamo Dresden (second division Bundesliga), has made an MRI that revealed a torn of ligament in his right knee according to the official website of the club.
In fact he was injured last Monday in the 13th minute against FC Cologne (0-2) in a clash with Stefan Maierhofer.
Mickael Poté, Captain Dynamo Dresden, appeared 27 times this season in Germany (25 in the league) and has scored 7 goals (six in the league) and delivered an assist.