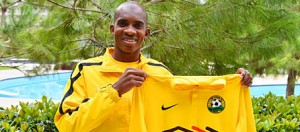 He did not have time at the time of his transfer back from the Afcon.
Charles Kabore returned to Marseille on Tuesday to say goodbye to his former teammates. "I've been encouraged. I spent many happy years here with wonderful people. I could not leave without saying "goodbye" and thank them for everything they have done for me. They will remain in my heart. "
"Thank you for everything you have given me, the fun I had playing for OM even though I was often called. One cannot please everyone but I love everybody and I took pleasure in playing. The OM fans are wonderful; they get to continue to encourage the OM as they have always done. The whistles are not used much. Even in difficult times, we must applaud and encourage because it makes players be morally strong. "
Kaboré is now moving to Kuban Krasnodar in Russia.