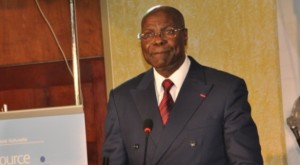 Rebound in the crisis of the Cameroonian football. Adoum Garoua, Sports Minister backtracked after a letter from FIFA ordering him not to interfere in the affairs of the Fecafoot (Cameroon Football Federation). The FIFA ultimatum arrived Tuesday.
In a letter, Adoum Garoua allows Iya Mohamed, President of Fecafoot to continue the electoral process.
"By acknowledging the receipt of your correspondence referred to in object reference and following it, I have the honor to invite you to the continued implementation of the electoral calendar in your federation in respect of national legislation and international sport principles."
he also makes some recommendations to Iya Mohamed, in the crosshairs of the Cameroonian justice for the embezzlement in Sodecoton.
"I ask you the same opportunity to surround yourself with the necessary precautions to avoid any threat or disturbance of public order, which could result in the organization by your federation's operations. For this purpose, you would realize many steps you have made in this direction and results. "As for wider consultation with those involved in football, they will continue. The timing of these "broad consultations of football players incurred by my Ministry and planned to take place from 9 to 23 April 2013."
The news is not going to enjoy Antoine Bell, who believed that FIFA would not relax the problems of football for elections.