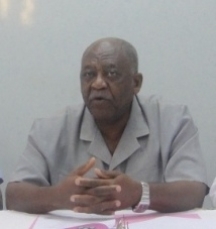 Here is the end of the interim at the head of the Cameroonian Federation of watersports (Fecasnau).
An election was held last Saturday in Douala, the economic capital town of Cameroon. And Valentin Mouyombon was elected. 41 votes were cast in his favor. His opponent, Theophile Epée Kame, got 38 votes.
The lucky winner will not need to adapt to the position of president of the federation. He already held since November 27, 2011. First vice-president at the time, he has replaced at short notice Paul Longo Sosso, who died.
Valentin Mouyombon has several projects for his four-year term. He plans to strengthen the training of technical staff and referees. "We had almost no technical officilas. The referees were not always trained, "says the sixties, owner of an economic structure specialized in the construction of buildings and housing. Valentin Moyombon wanted to provide his federation, very helpless, greater financial resources. He also wants to give a chance to women. He would like to develop to the Cameroonians their introduction to the so called "watersports".
His term could also be marked with the seal of the Fecasnau reform. He could be the one who will lead the process of break-up of the federation.
Thus, should emerge federations of the Canoeing, aircraft and dragon boat (canoe). The new president says that this change is still blocked by the Cameroonian Ministry in charge of sports. "The project was submitted to the Ministry of Sports and Physical Education. We are still waiting for his response, "said Valentin Mouyombon.
Water sports are not "minor sports" like many others. They emerged in Cameroon since 2001, after the election of Paul Longo. Cameroon regularly participates in international competitions and athletes often bring laurels to the country. One of its very best competitors, the rower specialist in rowing, Paul Ndoumbe Etia, ranked 27th in the Beijing Olympics. He was also crowned the best African of Competition.
 Pierre-Arnaud Ntchapda