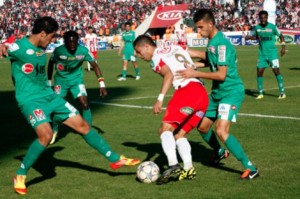 Widad Athletic Club and Raja, all from Casablanca are neutralized in the capital derby at the 26th day of the championship of Morocco. The WAC was joined in the game after having managed to take the lead with a brilliantly taken free kick in the 26th day by Sekkat. The equalizer goal is scored against his side by Mankari in the 63rd minute.
Raja of Casablanca remains the leader with 56 points, well ahead of his opponent in 3rd place with 43 points. The second place is occupied by the FAR Rabat (50 points).
The next weekend, the WAC should raise its delay with two goals conceded against the Mozambicans in the eighth-finals of the CAF Cup.
KAC Kenitra (15th points) and COD Meknes (16th) are relegation with 22 and 20 points respectively.
Review the goals !
[youtube]http://youtu.be/Ta4rnd5T2Ps[/youtube]