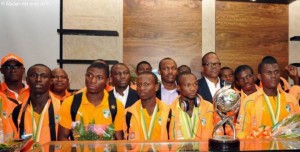 Following their victory in the final of the Afcon U17 after penalty shootouts against the Super Eaglets of Nigeria, the Ivorian Elephants have trampled the soil with the trophy.
A human tide from of all municipalities in the country was present on Monday to welcome the heroes who have put for the first time Ivory Coast in the legend. At the foot of the plane that brought the players, the Minister of Sport and Recreation, the representative of the President and then the boss of the Support Committee for the Elephants.
After the congratulatory message from Minister of Sports, Alain Lobognon, the African champions can now be reassured the honors of the whole country.
The Elephants are sitting with their trophy at the National Technical Center of Bingerville. A busy schedule awaits the African champions in the coming hours.