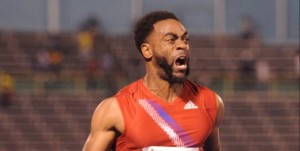 In the absence of its best ambassadors in the men's sprint, Usain Bolt suffering from a breakdown as well as Yohan Blake, Jamaica attended the demonstration of the last minute guest, Tyson Gay in the 100m.
The American dominated the distance with a time of 9''86 on the track of the Jamaica Invitational, the best time of the year. He beat the Jamaican Nesta Carter in the second at 10" 03 and Darvis Patton (USA) third with a time of 10" 07.
"I have not had a good start but this very fast track allowed me to regain myself and make a good time," said Gay, who was shown at this meeting three years earlier on the 400 meters (44 " 89, a personal best) for his first participation.
First athlete to go below 10 seconds this year, Tyson Gay is dated to the 14th world championships, from the 10 to 18 August 2013, at the Luzhniki Stadium, Moscow. "I found my full fitness but I am very careful not to rush things. It's been a long time since I felt better like this. I cannot wait to be in Moscow. I will give everything I have. "
Main results (source: sport.fr)
100 m
1. Tyson Gay (USA) 9.86 (MPM 2013)
2. Nesta Carter (JAM) 10.03
3. Darvis Patton (USA) 10.07
200 m
1. Nickel Ashemeade (JAM) 20.00 (MPM 2013)
2. Warren Weir (JAM) 20.14
3. Wallace Spearmon (USA) 20.32
400 m
1. Luguelín Santos (DOM) 45.06
2. Tony McQuay (USA) 45.15
110m hurdles
1. Antwon Hicks (USA) 13.25 (MPM 2013)
2. Hänsle Parchment (USA) 13.26
3. Andrew Riley (JAM) 13.28
400m hurdles
1. Justin Gamon (USA) 49.23
2. Kerron Clement (USA) 49.23
weight
1. Ryan Whiting (USA) 21.74 m (MPM 2013)
2. Christian Cantwell (USA) 20.29 m