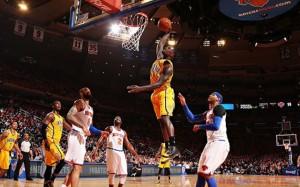 Carmelo Anthony and the Knicks surprised in their room by the Pacers.
New York begins its series of semi-finals of the playoffs with a defeat, 95-102. Blame it on a group of Indiana.
Despite Melo (27points, 11 rebounds), scorer of the game, New York did not begin its return in the second round of the playoffs since 2000 with a victory. Better applied, Indiana alternates game long short game inside-out and benefits from investment mistakes of the Knicks to bring the final blow.
With a 5 major in success (more than 10 points), Indiana sickens the Madison Square Garden.
Ian Mahinmi made a small appearance in the Pacers (5 minutes), the time to take one bounce and counter an opponent.