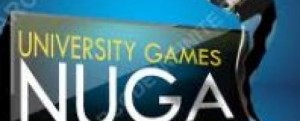 The 2013 Zone D biennial Nigerian University Games (NUGA) kicked off on Friday at the University of Jos, Plateau State. Vice Chancellor of the University, Professor Hayward Mafuyai stated that "The main aim of school sport is to nurture the values that are common in striving to be the best that you can be: teamwork, fair play, respect for one's opponents, dignity and generosity in victory or defeat and adhering to the structure and rules of the games in all circumstances. There is clear evidence to show that participation in sports reduces the propensity for young people to commit crime".
Mr Musa Ibrahim who is the Local Organizing Committee Chairman admonished athletes to abide by the rules governing the event. He stated that adequate measures have been put in place for a successful hosting of the games.
University of Jos is hosting the 2013 Zone D edition comprising University of Maiduguri, Benue State University, Gombe State University, Adamawa State University, Federal University of Technology, Yola, Federal University Gombe; ABTI American University Yola, Plateau State University the host, University of Jos.
NUGA games are held every two years in different zones across the country and athletes compete for medals in football, basketball, volleyball, lawn tennis, table tennis, taekwondo, judo, handball, badminton, squash, chess, and athletics.