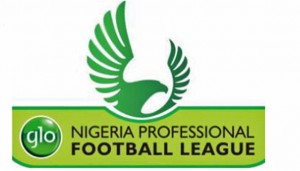 The image of the day is this new logo. The Nigerian Professional football league has now a new design logo.
Following the resolution of its title sponsorship tussle, the League Management Committee has launched a new logo for the Nigerian Professional Football League, according to Supersports.com.
The new logo incorporates an eagle with widespread wings atop the name of the league and the name of  the title sponsors Glo.However, LMC member Shehu Dikko says the new logo is not permanent.

"Based on our contractual obligations, we had to come up with a logo that reflects our new partners," he told KickOffNigeria.com. But we don't expect it to be the permanent one. This is just for us to have an identity and move forward. At the end if the season, and in consultation with our sponsors, we may hold a competition to get something else that will be more lasting."

The Nigerian Professional Football League had previously received on Monday, a massive boost as telecommunications giant, Globacom, signed N1.89bn three-year title sponsorship deal with the League Management Company (LMC), in Lagos.