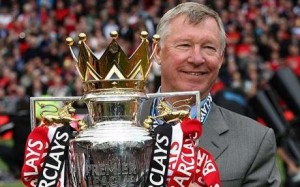 "I thought a lot to make this decision. This is not something I took lightly and I feel it is the right time. "This is the news of the day!
"My players and staff, I would like to thank them all for their outstanding professionalism and dedication that led to so many memorable awards. Without their contribution, the history of this great club would not be that rich, "said Fergie. "In my early years, support from management and in particular Sir Bobby Charlton gave me the confidence and the time required to build a football club, not just a football team"
As Africa Top Sports.com announced, Sir Alex Ferguson is leaving Manchester United. And this despite the 13th league title in England that he has just won with his 27 years of presence at the head of Manchester United.
Alex Ferguson is 71 years old. He has the intelligence to go at the right time!
In 27 years of reign, he won 49 titles with his club!
The highlights of his incredible achievements:
Manchester United
Winner of the FIFA Club World Cup (1): 2008
Winner of the Intercontinental Club Cup (1): 1999
Winner of the Champions League (2): 1999 and 2008
Winner of the European Super Cup (1): 1991
Winner of the European Cup Winners' Cup (1): 1991
Champion of England (13): 1993, 1994, 1996, 1997, 1999, 2000, 2001, 2003, 2007, 2008, 2009, 2011, 2013
Winner of the FA Cup (5): 1990, 1994, 1996, 1999, 2004
Winner of the League Cup (4): 1992, 2006, 2009, 2010
Winner of the Community Shield (10): 1990.1993, 1994, 1996, 1997, 2003, 2007, 2008, 2010, 2011
Finalist in the Champions League (2): 2009 and 2011
Aberdeen FC
Champion of Scotland (3): 1980, 1984, 1985
Winner of the Scottish Cup (4): 1982, 1983, 1984, 1986
Winner of the Scottish League Cup (1): 1986
Winner of the European Cup Winners' Cup (1): 1983
Winner of the European Super Cup (1): 1983
St Mirren FC
Champion of Scotland D2 (1): 1977
His successor would be David Moyes