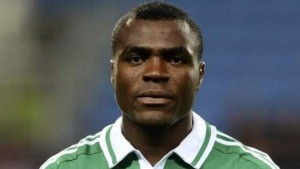 This seems to be a good way to motivate his teammates. Partak Moscow striker, Emmanuel Emenike, has promised a $50,000 reward to the Super Eagles if the team qualifies for the 2014 World Cup in Brazil.
"I promise the whole team $50,000 if we qualify for the World Cup in Brazil," Emenike told MTNFootball.com. Like I said before that we have a team that can make this country proud, and I am doing this from the bottom of my heart just to motivate the team. I am not doing this to intimidate anybody but just to show my total support to the team because I grew up supporting the Super Eagles."
He added: "I am really behind the team. I don't want them to miss me because there are other players who can get them the goals".
Emenike was named in Stephen Keshi's 30-man squad to negotiate the last two games of the group phase, but withdraw due to injury.

After undergoing successful surgery in Italy, the forward will be out for two months but says he still wants to play his part in ensuring the African Champions make it through to Brazil.

"I am disappointed that I won't be able to play and help the team," Emenike told KickOffNigeria.com. "But I have confidence in the boys that they can do it. Since I can't be there for now, I want to give them my support and I will give the team $50 000 if they qualify for the World Cup."

Emenike expects to be back training in July, and expects to be fully fit for the start of the new season.