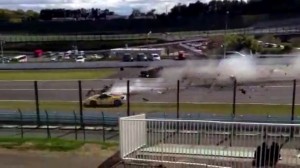 Ferrari racing? Given the speed of these cars, it is obviously a very dangerous sport. Here is the illustration.
During the 2013 Ferrari Race held at Suzuka in Japan, the pilot Shigeru Terajima has knocked in full speed a safety barrier.
He lost control of his Ferrari 458.
Consequence: Shigeru Terajima and a volunteer around this circuit were taken to the hospital in emergency. They are both in serious conditions.
watch the terrible accident here!
[youtube]http://www.youtube.com/watch?feature=player_embedded&v=ccTpYiUeQOU[/youtube]