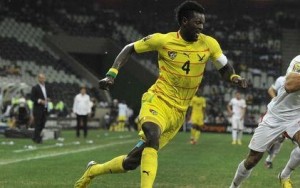 Togo faces in the 4th and 5th days of 2014 World Cup playoffs to be held in Brazil, Cameroon on June 9 and Libya on June 16. The long-awaited list is spirited to draw with notices sent on Friday to the various players. No big surprise.
The group that faced Cameroon in Yaounde during the third day was renewed in more Agassa Kossi and Emmanuel Adebayor Sheyi. The 23 present at the last Afcon are renewed except Prince Segbefia. The player is replaced by Auxerre Lalawele Atakora.
Goalkeepers: Agassa Kossi Tchagouni Baba ATSU Mawugbé
Defenders: DONOU Kokou, BOSSOU Vincent Gafar Mamah, Sadat Ouro-Akoriko, AKAKPO Serge Nibombé Daré, Djene Dakonam
Midfielders: Alaixys ROMAO, SALIFOU Moutapha, Amewou Komlan, WOME Dové, Gakpé Serge ATAKORA Lalawele, SAPOL Mani AYITE Floyd Amétépé Kodjo
Attackers: P LACCA Fessou, AYITE Jonathan ADEBAYOR Sheyi and Kalen Damessi
Togo is last in Group I with one point. Cameroon is leading with 7 points followed by Libya 5 and DR Congo.