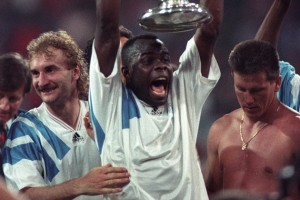 As I said on this blog, P … 20 years! But this time it really is the D-day! I feel like 26 May 1993 is just yesterday! Anyway, the years go … Tonight we all meet at the Velodrome to celebrate this victory against AC Milan (1-0)-The club plays its last game without challenge of the season against Reims-
The President – that is how I always call – Bernard Tapie will be there. Just like my friends Abedi Pele, Frank Sauzée, Jocelyn Angloma, Jean-Philippe Durand, Bernard Casoni or Pascal Olmeta, the captain at that time.
Didier Deschamps has called me to tell me he should not be there, as Eric Di Meco, Rudi Völler, Alen Boksic, Marcel Desailly and Fabien Barthez …
It's too bad guys, make an effort, we expect you!
I promise you we will burn it up! Tapie has understood: "It will be terrible. I'll meet one more time my players there that I have not seen for a long time. And symbolically, it's great. My daughter Sophie who will sing the famous "We are the Champions" of Queen was four years old at the time. She did not want to miss any game and was all the time at the Vélodrome Stadium. In the lodge, she was up to my knees. It's a beautiful story, I will have chills. "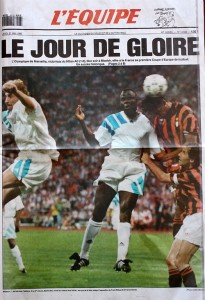 How could I forget? As I said it, the strong point of this team, it was mental. From number 1 to number 15. After that, there was the technique, when the ball left the feet of Abedi or Boksic, cunning Völler, the defensive work of Franck (Sauzée) and Didier (Deschamps) … You had the black guard, Joss (Angloma), me and Marcel (Desailly). On the sides, you had a mad dog Di Meco. "
I promise you beautiful photos and full exclusivities on my blog on Africa Top Sports!
[dailymotion]http://www.dailymotion.com/video/x106dw7_26-mai-1993-l-om-champion-d-europe_sport#from=embediframe[/dailymotion]