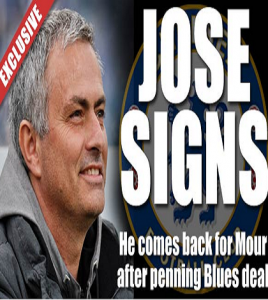 Removed from office by President Roman Abramovich at the head of the Blues of Chelsea 5 years ago, Jose Mourinho has officially arrived on Monday at Stamford Bridge as Africa Top Spors reported.
The Special one is committed for four years. He comes to micro of Chelsea displaying a love for the club
"I am one of you. In my career, I had two great passions: Inter and Chelsea. And Chelsea is most important to me. It was very, very hard to play against the club, "suggested the former coach of Real Madrid.
But when hearing him it was so easy! "I asked the boss" Do you want me back? ", He said" do you want to go. "After a few minutes, the decision was made. It was simple to make. I am very happy. I have to prepare myself not to be too excited for my return. "
If only everything could be as simple for everyone!