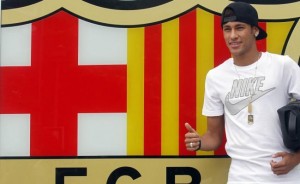 Africa Top Sports.com announced a tumultuous welcome! Neymar was not disappointed! Barcelona's new recruit was entitled to unforgettable presentations with the Catalan public!
More than 50 000 spectators, as well as for Zlatan Ibrahomovic in 2009 – but not more (! This is already huge) came to cheer their new idol!
The young Brazilian prodigy will wear number nine, flocked "Neymar Jr".
Yesterday, he was disappointing during the friendly match Brazil-England (2-2) played Sunday at the Maracana.
"I am very happy to play for Barcelona and to realize my dream. I came here to help the team and Messi, the best player in the world. "
Some believe he can overshadow Lionel Messi. Only time will tell!
Watch the video here –
[youtube]http://youtu.be/6_ysCFgmhrs[/youtube]