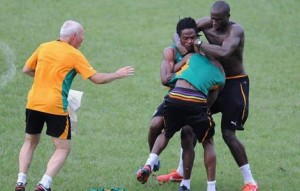 On Wednesday, the training session of the Elephants of Cote d'Ivoire has turned into a scene of boxing. Especially between two men. Abdul Razack and Jean-Jacques Gosso Gosso.
The Manchester City player and the one of Mersin Isman Yurdu have come to blows over a previously unknown reason. It took the intervention of members of staff and other teammates to stop this outrageous scene of the two members of a national team.
The height, the daily training was open to the public, and Razack Gosso Gosso offered this show in the presence of the Ivorian fans and VIPs.
In the evening, the penalty fell; the two boys are excluded from the group and will not participate in the next meeting of the 2014 World Cup qualifiers against Tanzania. This is awaiting heavier sanctions from the FIF (Ivorian Football Federation).