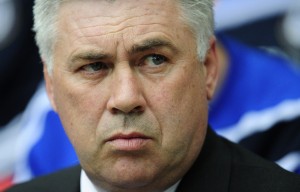 It is no longer a secret!
Carlo Ancelotti is expected to leave PSG for Real Madrid.
The Transalpine technician should engage with the Casa Blanca after July 3, for tax reasons. Before even taking the way to the Merengues, the Italian coach has already according to Marca, the tactics he will use next season.
To believe the Spanish daily, Carlo Ancelotti will implement the 4-3-3. In the team-type of Ancelotti, we can see Iker Casillas, the Martinique Raphael Varane, three midfielders including Sami Khedira, X. Alonso and the Croatian Luka Modric.
In the forward line, a new trio gathers Gareth Bale, if the Welsh joined Merengue, Mesut Ozil at the right, Cristiano Ronaldo at left, and Karim Benzema at the tip.