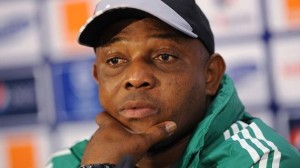 Game over for the Super Eagles!
As Africa Top Sports reported to you, the Super Eagles of Nigeria have lost against Spain last night in the Confederations Cup 2013 (3-0) after having  failed to win Uruguay (2-1). As a result of these defeats of the men of Goodluck Jonathan, the Super Eagles are eliminated from the competition.
If Coach Stephen Keshi failed to see the final stages of the competition with his band, he did however fail to release a comment on the performance of his men.
He related this failure to the packages of some of his key players and the lack of experiance for his troop.
"It's a learning process for us, we just have to continue what we started tonight (Sunday) and build (…) I think the absence of some key players also affected the team because when you look at the other teams, they have their complete team, their first-team", he said before continuing.
"In the first half, we were very composed, but when we conceded the second goal in the second half, we became unprofessional. We need more experience," he concluded.