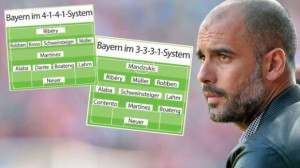 While the German league, the Bundesliga starts on August 9 this year, the device of Pep Guardiola goes up gradually. The former Barcelona coach hired this season to replace Jupp Heynckes could evolve with two tactical schemes the 4-1-4-1 and 3-3-3-1 according to actusports.fr.
The first schema places the French Ribery as the first striker and will be responsible for the scoring of goals. This system does not really fit the profile of the former Metzin who loves having space.
The second system, places Ribery on the left side and Robben on the right wing. It seems to be obvious perhaps with mutations of both players. It is also with this device that Bayern had made the triplet.