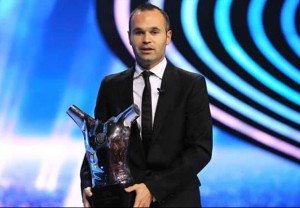 UEFA (Union of European Football Associations) announced on Tuesday the list of the nominees for the Golden Ball in 2013. An award for best European player of the year. One thing is certain; the Spanish Andres Iniesta winner last year will not take over from himself. He is not included in the 10 players named.
For this year, we will still count on the two rivals, Lionel Messi and Cristiano Ronaldo, who came 2nd and 3rd respectively last year. But this list with a Bavarian accent as Thomas Müller, Franck Ribery, Arjen Robben and Bastian Schweinsteiger. What could be more normal as Bayern Munich is the European champion.
Other players nominated, the Dutchman of Manchester United Robin Van Persie, Welshman Gareth Bale from Tottenham, the Swede Zlatan Ibrahimović and Polish Robert Lewandowski of Dortmund.