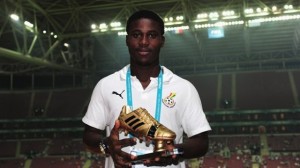 Architect of the third place of Ghana's World Cup less than 20 years, the young striker of Liberty Professionals Ebenezer Assifuah received on Saturday the Adidas Golden Boot after scoring a total of six goals in the competition. The young striker is proud of his performance "I am very happy to have scored my sixth goal against Iraq in the match for the third place. I have struggled to score all these goals, but in the end, I'm proud of what I've done, "he said.
After the first two losses recorded at the start of the competition, Assifuah found it necessary to realize a double score against the United States (4:1) to give hope to the Black Satellites. In the quarterfinal against Chile, he also saved the team by scoring the equalizing goal before offering the victory in the extra time. Assifuah returns to the competition.
"It was a very interesting experience, but there is no doubt that our team was put to the test. Just look at the scores of the matches and understand that we had to push our limits. Nevertheless, my goals helped me to win the Golden Boot. They also contributed to the third place in the Ghana. I am all the more proud. This is just fabulous, "he said on the CAF website.