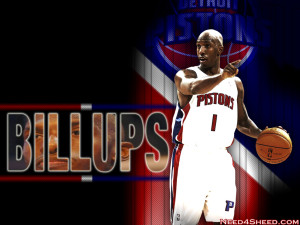 After two seasons with the Clippers (2011-2013), Chauncey Billups made his return to the Detroit Pistons with where he spent six seasons (2002-2008). The franchise Michigan has lost its luster with the departure of the MVP leader of the 2004 season Finals.
Principal architect of the title that year, Billups (36 years) announces that he is not coming back for a comfortable retirement "I feel that I still have good years of basketball in front of me, he explains to ESPN. I said it over and over again; I always wanted to be remembered as Piston (…) I do not like defeat and mediocrity. I'm not here just to be a mentor or coach. I come to play and go for the win. I'm looking forward to it. "
In this sense, the champion of the Pacific division with the LA Clippers hopes to allow the Pistons to reconnect with the play-offs. A stage of the championship that the franchise has not reached since 2009 "I do not know if we can get two years to get back to where we were when I left. But the playoffs, I think is a goal that we all have set from day one. "
Hit at the Knee Mr Big Shot should set a time for him to regain the level of bowing as he wishes: "I always wanted to be remembered as Piston. "
Chauncey Billups is committed for two years with the Pistons with an emolument of $ 2.5 million this season.