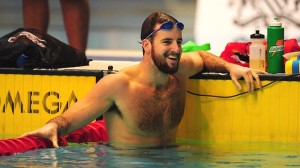 At the side of the favorites of these championships, everyone has a little secret of his game in the playoffs. The times are poor, as highlighted by the French Fabien Gilot, only 14th in 49" 07.
"The times are not astronomical, we're all more or less in the same package, but in the semis tonight, everyone will try to earn his place. It is nice to be in the last series, it is a 100 meters where I rarely swim, where I expect to be in the 75 meters to accelerate and pass. It suggests good things for the future. The shape of the relay is there. My 46" 90 Relay is equivalent to a 47" 40. What is certain is that I'll have get close to my best time to be in the final. "
Fabien Gilot is the only French in the semifinals after the surprising dismissal of the reigning champion of France William Meynard, the 19th time in 49" 59 series.
There will therefore be only one lap under 48" 50 in the series but not the least. The Australian James Magnussen, disappointing with the 4 × 100 meter relay freestyle and therefore needed to be reassured, impressed in 47" 71 fifteenth best performance of all time. "I felt very relaxed, I am comfortable technically, but these are just series, I think of the result. I do not know what happened to me during the relay, but I'm trying to move on. Now I feel much better so I'm much more ambitious for the 100 meters, "he told us. Reassuring from the defending champion, who had traveled back and forth in 47" 63 two years ago in Shanghai, a time that could fall on Thursday before the final dense competition, led notably by the American Nathan Adrian, Olympic champion in London in 47" 52.
Special Envoy to Barcelona