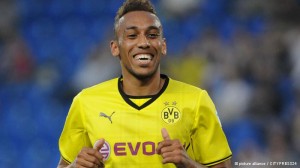 Tenured at the right side of the attack on his debut with Borussia in Bundesliga, Aubameyang did not ask for more. The Gabonese thus rendered the confidence of his coach on the field by scoring a resounding tripled during the first day of the championship against Augsburg.
At the 24th minute, by his first hit, the former Saint-Etienne opened the scoring. On a diving header on a cross from the left by Schmelzer. 1-0 is the score at the break.
On resumption, Aubameyang continues his show with two more goals. Firstly in the 66th and then in 79th. A beautiful tripled allowing him to leave in the 82nd with the cheers of an entire stadium. Lewandoswki added a fourth goal from a penalty spot for a 4-0 win for Borussia.
Already being the first Gabonese player to play in a German professional league, Aubameyang became the sixth player in the history of Bundesliga to have scored a hat-trick in his first game. At this rate, he will quickly realize his dream: to win the Bundesliga.
To do this, they will have to dominate Bayern Munich very impressive by entrance.