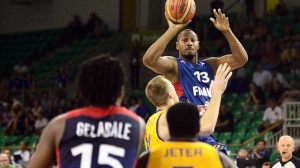 The France team has captured the top spot in Group A of Eurobasket, after its victory on Sunday against Ukraine (unbeaten before this match), 77-71.
In this game illuminated by Tony Parker (28 points) on fire in the fourth quarter time, Boris Diaw, who has cracked 15 points, also entertained the audience with an alley-oop on a pass from Mickaël Gelabale.
Check out the video!
[youtube]http://www.youtube.com/watch?feature=player_embedded&v=Kt65pZTafSQ[/youtube]