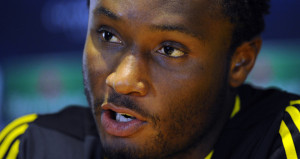 "Samuel Eto'o is not my enemy," stated Fernando Torres on Monday. The Cameroonian, new Chelsea striker is not the enemy of his teammate John Obi Mikel either. Instead, he sees him as a reinforcement of weight in order to achieve the many goals that Chelsea has set for the 2013-2014 season.
"Samuel Eto'o is a great player, a fantastic player. It was evident in his playing style. He can create some good opportunities. It is precisely for this reason that the manager call him upon, "said the Nigerian midfielder to our colleagues from the Daily Mail, speaking of the debut deceiving debut of the Cameroon against Everton this weekend.
John Obi Mikel has no doubt Eto'o's ability to quickly adapt to the English football in general and in particular that of Chelsea.
"Chelsea is my first real professional club and it took me six months to adapt, but I think for someone like Eto'o, who has extensive experience and has played in many championships, it will not take as much time".
Eto'o began timidly his first game for Chelsea against Everton on Saturday. The London club lost 1-0 for the first time this season.