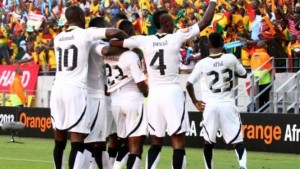 Black Stars players proved in last wednesday UEFA champions league that they are indeed getting ready for the Pharaos of Egypt in the World cup play-offs. Four Black stars players were on fire for their various clubs in the champions league as three players scored for their respective clubs.
Kevin Prince Boateng scored the second goal for his club in Schalke 04 win over Steaua Bucuresti. the game ended 3 – 0 in favour of Schalke 04.
Jordan Ayew also scored the only goal for his club Olympique Marseille in their 2-1 defeat over English club Arsenal. Jordan who have not been earning national call-up due to his inability to get play-time in Marseille scored a penalty which was earned as a result of hard tackle on his brother Dede Ayew.
Sulley Muntari also powered a second goal for his Club AC Milan in their 2-0 over Celtic.Even though Muntari was not called for the Ghana-Zambia game in Kumasi due to his questionable attitude toward the national team coach, he might get a call-up to feature in the play-off game against Egypt.